NFP Fertility Awareness
The ultimate conversation-starter. Show your support for Natural Family Planning and invite questions from curious friends and family members. This white t-shirt features a modern take on the "fertile day" baby sticker and is made and sold with permission from the Pope Paul VI Institute. Ten percent proceeds benefit the institute. T-shirt and baby onesie available soon, $18 and $15.  
Original eBooks
If you're dealing with a few particular life changes, I might be able to help you out with e-books I've written about transitioning out of the classroom and transitioning into freelance writing. Here's the line-up so far: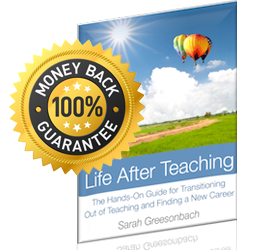 Life After Teaching
Leaving teaching is terrifying! So this e-book (and the LinkedIn community that formed around it) is a great way to dip your toe into a new career and see what life might look like outside the classroom.
The Sweet Spot
Once I left teaching, I made 59K and then 87K working for myself from home as a freelance writer. If you're curious about freelancing for a living, this book walks you through what I did and how I did it.